END OF LIFE CARE
Euthanasia literally means "good death." We are honored to provide a peaceful and painless transition into death when and if needed. We will treat your pet with the most upmost respect and dignity before, during, and after the appointment.
We recommend using our mobile clinic, Rocket City Mobile Vet, to have this performed in your home if you would rather not have the procedure performed in the hospital setting; or we also recommend Dr. Rebecca McClellan with Companion Crossing and Dr. Robin Gibbons with Onward Paws if Rocket City Mobile Vet is unavailable.
If you need this procedure to occur in our hospital, we will explain everything in depth depending on your interest and comfort level.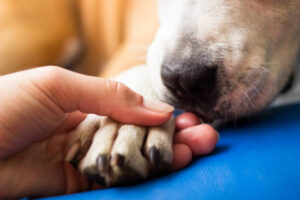 We try to make the entire procedure simple and peaceful as possible. We will give a sedative injection under the skin or in the muscle if for any reason your pet is in distress. After 5 to 15 minutes, once we are assured that your pet is asleep and will feel no discomfort; we will place an IV catheter.
Once you are as ready as you can be for this type of procedure, we will inject the euthanasia medication that will work rapidly to allow your pet to pass on.
You may spend as much time as you need with your pet. If you would like for us to handle the aquamation (a natural and environmentally responsible way of "cremation" using water instead of fire), we will work with our partnering aquamation center, Heavenlee Companion Aquamation, and we can discuss in more detail at the appointment about your plans for when your pet's ashes are ready to come home.